Webinar – An Essential Overview of North American Certifications for Hazardous Locations
13th September 2023

Posted by:

CML

Category:

News, Useful Information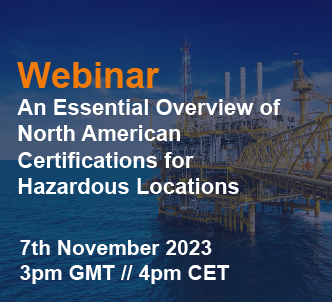 Webinar – An Essential Overview of North American Certifications for Hazardous Locations
On the 7th November 2023, Eurofins E&E CML are running a webinar where they will provide an essential overview of North American Certifications for Hazardous Locations. 
The requirements for the North America Hazloc certification differ from those for ATEX and IECEx certification, so understanding these differences is critical to a successful certification programme and ensuring a smooth market access route.
If you are looking at Hazloc certification for North America or if you have existing certifications, join Eurofins E&E CML for their webinar on the 7th of November, 2023, where their experts will introduce the key concepts, essential requirements and technical differences between Hazloc, ATEX and IECEx certification.
Join Eurofins E&E CML on the 7th November 2023 at 3pm GMT/4pm CET/9am Central/10am Eastern Time.
In this webinar, the following will be covered:
An introduction to North American Hazloc certification
How North American certification compares to ATEX & IECEx certification
Distinctions between Ordinary and Hazardous Location approval
Technical differences within testing
Inspection requirements
Transferring an NRTL
At the end of the webinar, there will be a Q&A session.
The webinar will be presented by Jeremy Maxwell, Certification Manager for MET and Director of North American HazLoc Business for Eurofins E&E North America.